If you follow me on Instagram, you might have seen that I recently got this *gorgeous* floral fabric that I wasn't sure about how to use.  I mentioned I'd probably be making a pillow cover with it, and I will (because how can my pillow-cover-obsessed-self not) but I also wanted to do something with it in a way where I could just look at it.  Seriously, I think I would have been ok with just hanging it up on the wall, but I've had monograms on my mind lately and found this the perfect opportunity to create a decorative one.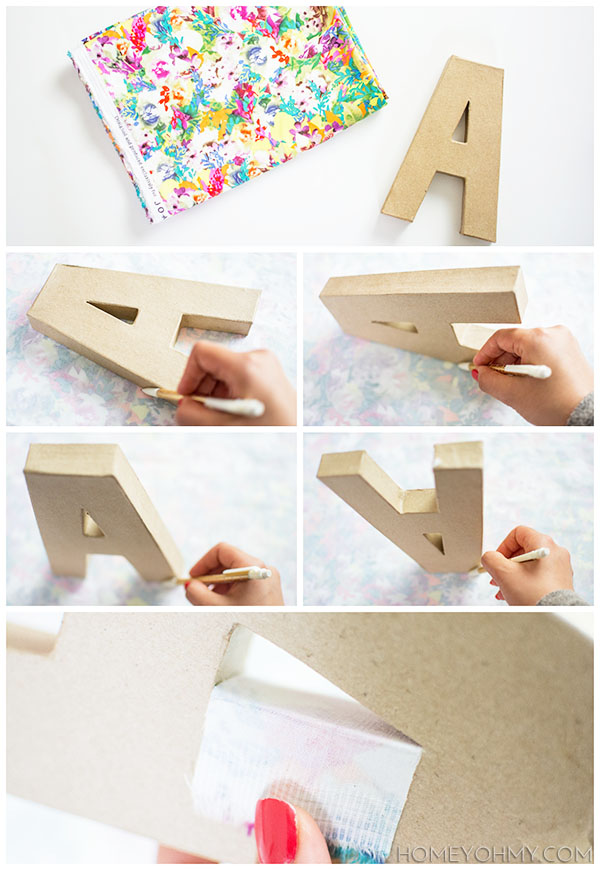 I got the fabric and cardboard "A" from Joann Fabrics, and all I did was trace every side of the monogram onto the fabric with a pencil and cut each piece out.  For the inner edges and hole in the A, I measured the needed length and cut out a piece of fabric first, then marked in pencil where I'd need to cut the width.  After all the pieces were cut, I used a foam brush and Mod Podge to glue them all on to the monogram, then applied Mod Podge over all the fabric as a final protective coat.
Per my usual, preferred crafting style, I kept it really simple and easy, which I think was best for this floral fabric to be the star of the show.  I freaking love it.  Floral is a pattern I will always love, and the bright colors on this one are spreading some much welcomed summery vibes.  I can't stop looking at it, which is all I wanted to do in the first place- success!
What do you think of floral patterns?  I'm hoping to incorporate more of them into my home, and for sure will be making that pillow case and sharing how that turns out on Instagram, possibly along with how it looks hanging up on the wall haha!  Seriously, I think this fabric would look good in a frame or as a photo mat, no?  Too far?
Other Posts You Might Like