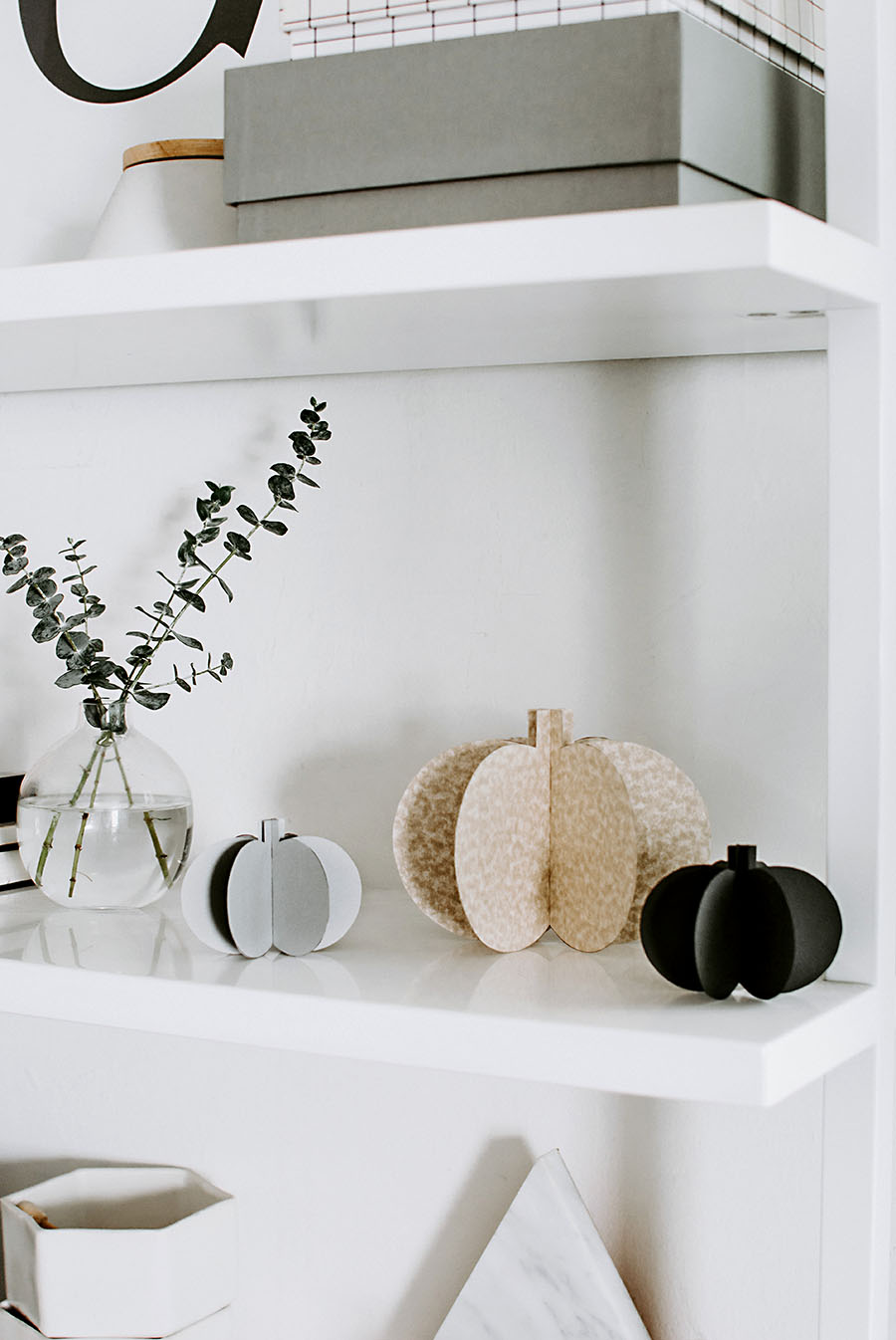 You ever notice how people get very into Fall decorating?  I'm undeniably in this group of fanatics and I'm betting most of you are too.  It's so beloved because it gets us excited about all the celebrations, cozy moments, and slower living to look forward to in these upcoming best months of the year.  This is a lot of why October is my favorite month, and in case you're feeling the same and are looking to get more of your fall decorating on too, I've partnered with my friends at Canon to share these 3D paper pumpkin printable templates (say that five times fast) and the very easy tutorial on how to assemble them.  Plus, we're giving away the new Canon PIXMA TS9521C Crafter's All-In-One Printer to one lucky winner to help you out with the rest of your holiday crafting- entry details at the end of the post!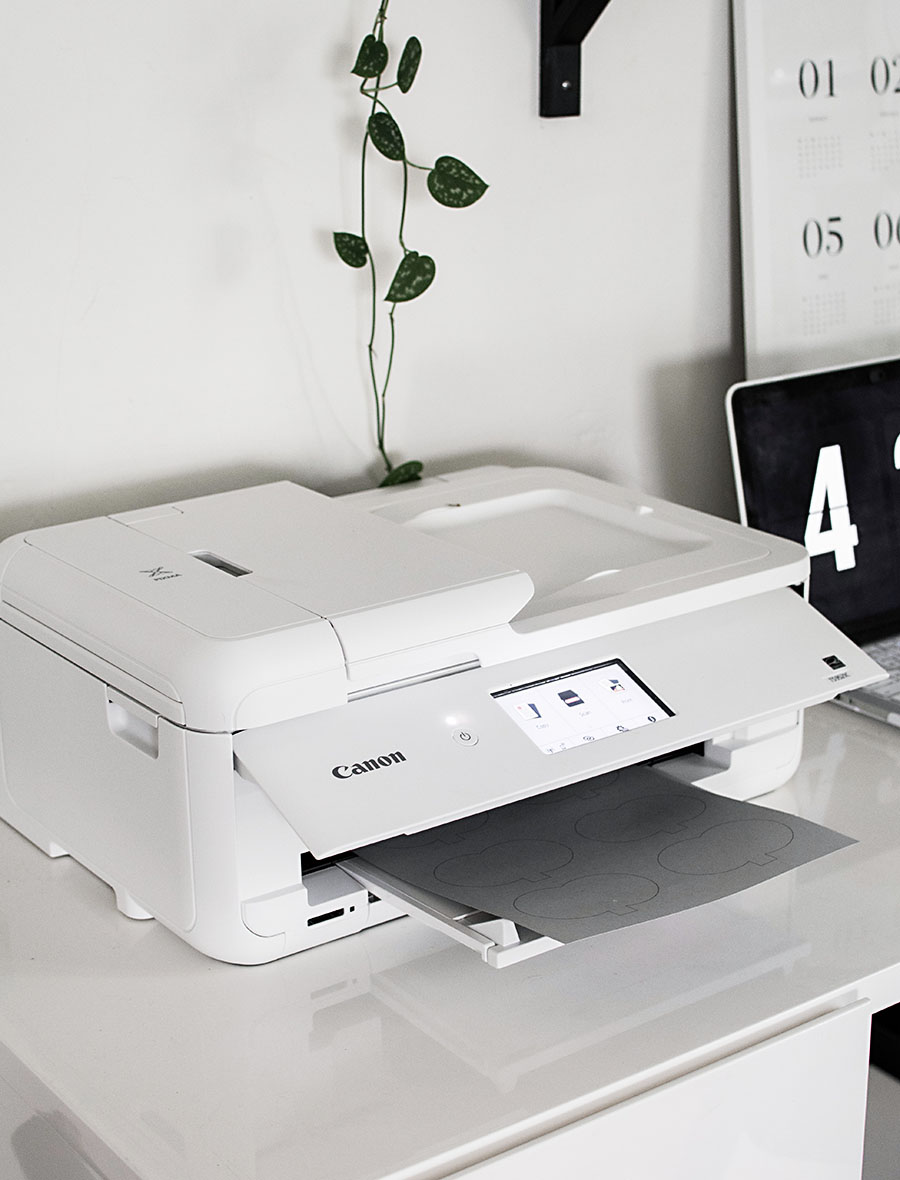 I've been partnered with Canon for a while, experiencing the evolution of their printers through the past few years, and this is my favorite Canon printer yet.  The TS9521C is a printer, scanner, and copier all in one and can print up to 12×12″ in size.  It has both a front and rear feed that make it possible to print on a variety of different paper types, which is crucial for the versatility of printing projects that comes with crafting.  That includes my unsurprisingly favorite printing medium of card stock, which is what's needed for this 3D paper pumpkin project.
Print the templates out on card stock and cut out each pumpkin shape.
Get the small pumpkin template HERE.
Get the large pumpkin template HERE.
You will need to cut out 5 pumpkin shapes total for each 3D pumpkin.  I know, there's 6 on the small template and 2 on the large template and neither adds up evenly, but I wanted to maximize printing as many of these possible on each sheet.  Plus, you're making a bunch of these pumpkins and will need to print multiple sheets anyway, right??.
Fold 4 of the pumpkin templates in half and leave the 5th pumpkin template unfolded.  We'll call this unfolded one the "flat pumpkin".
Apply a thin layer of Mod Podge on one half of the flat pumpkin.  Avoid applying too much since that can cause the paper to curl while drying.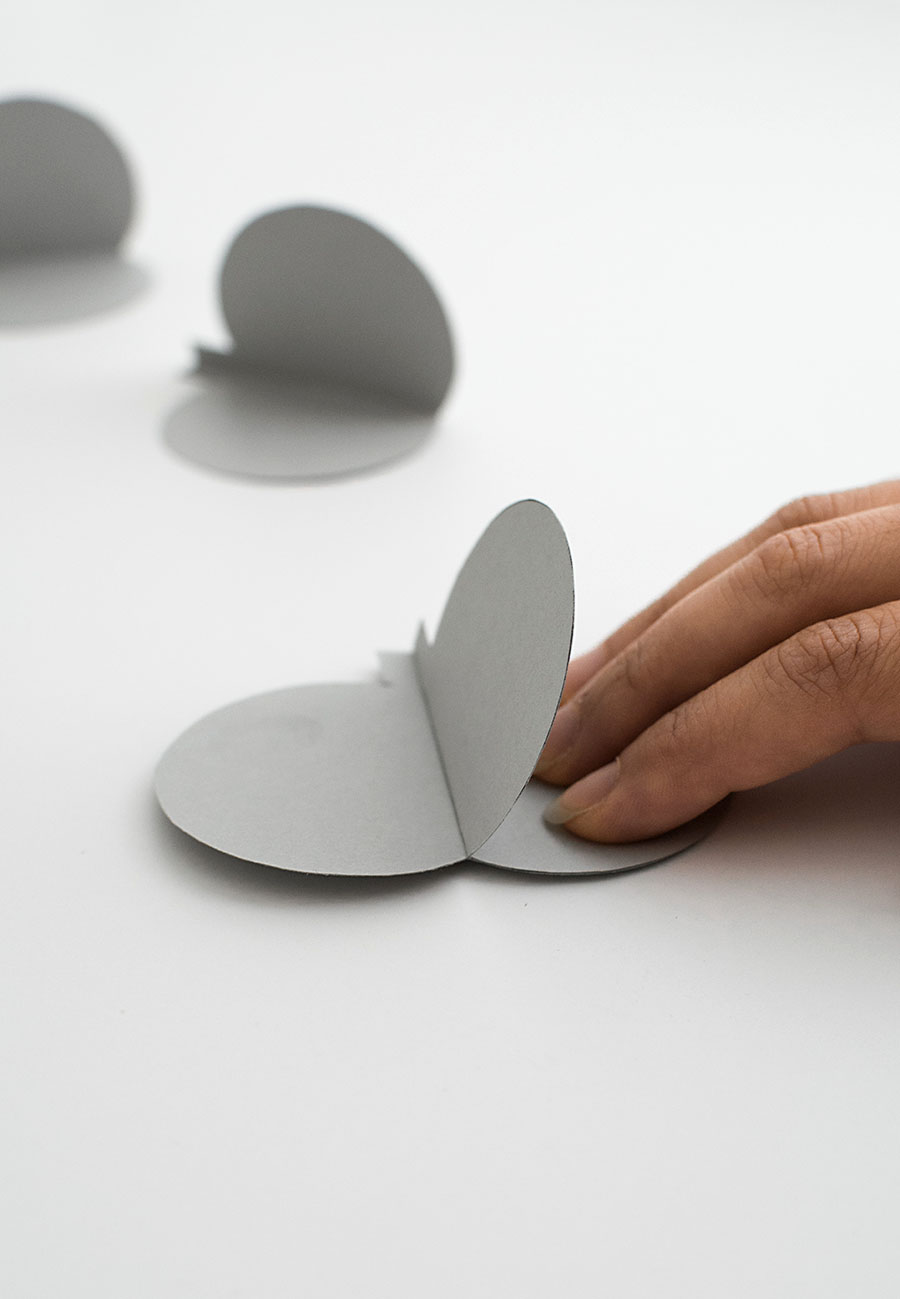 Line up one of the folded pieces with half of the flat pumpkin and press it on to the glue like shown above.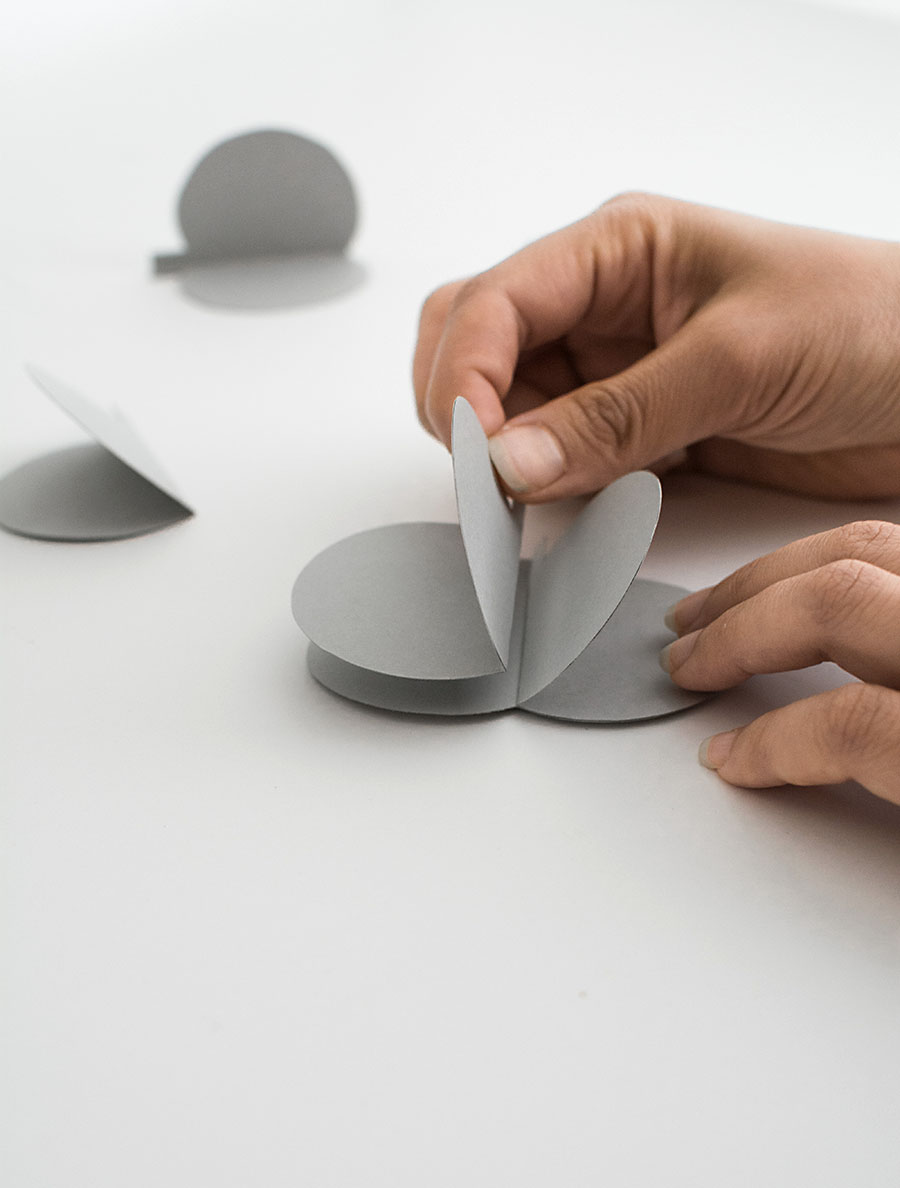 Apply a thin layer of Mod Podge on the other half of the flat pumpkin and firmly apply another folded pumpkin on top.
Repeat on the back side of the flat pumpkin and you'll end up with this free-standing 3D pumpkin.  Bend the flaps further if needed so that they're evenly spaced.
You should definitely experiment with different card stock colors and patterns that you love.  The template is simple and blank so that you can have that customizability!  About that black pumpkin, it's actually a dark charcoal card stock so the printed blank ink from the template still shows up on it- an easy little hack to work around the issue of printing on black if you like the black look.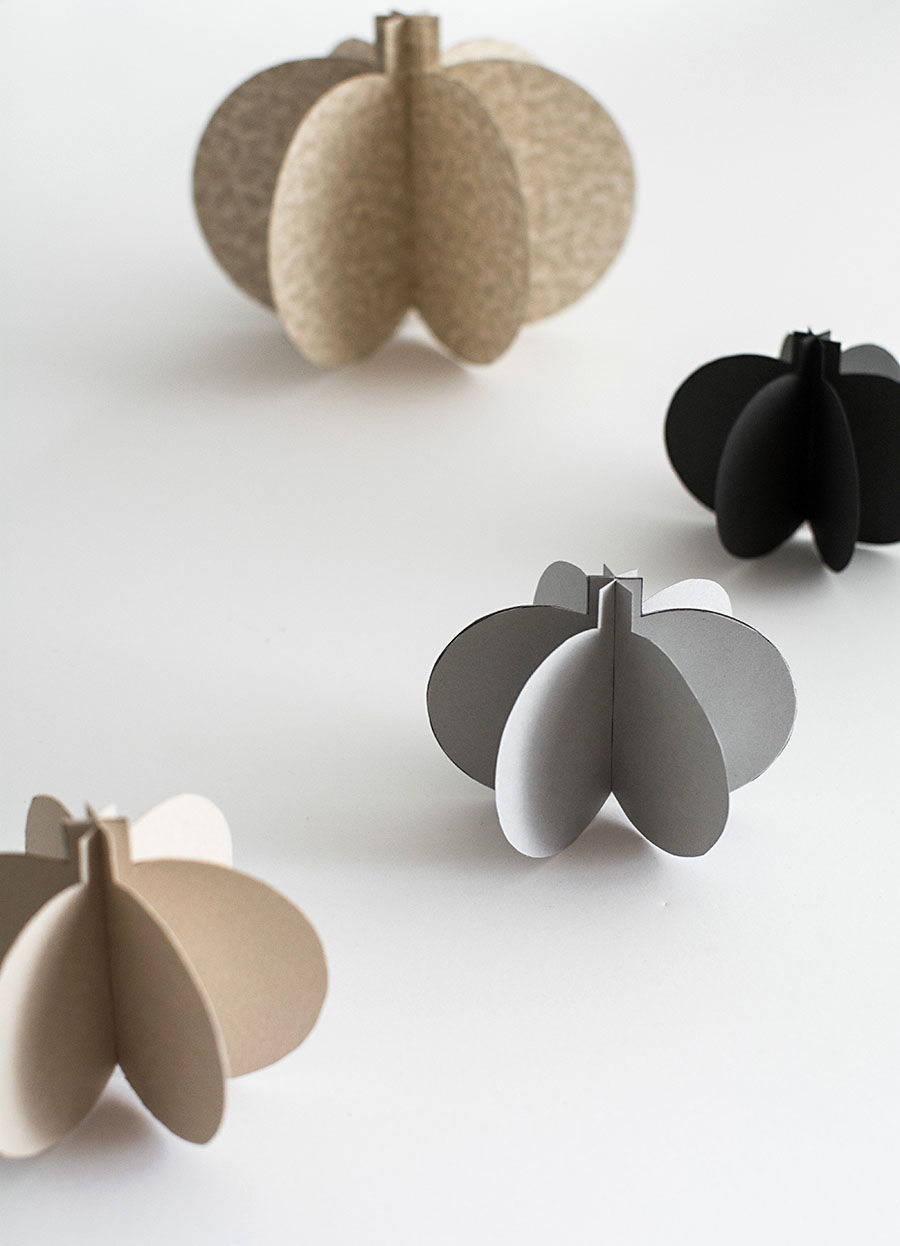 I already like the idea of casually scattering these around the home or keeping them on the desk, but I'm most looking forward to using them as party decor for Friendsgiving.  These would be pretty adorable on a buffet table, or even strung onto garlands.  If you're having a more formal fall gathering, these could also work really well as place card holders or place cards themselves.  Lots of possibilities!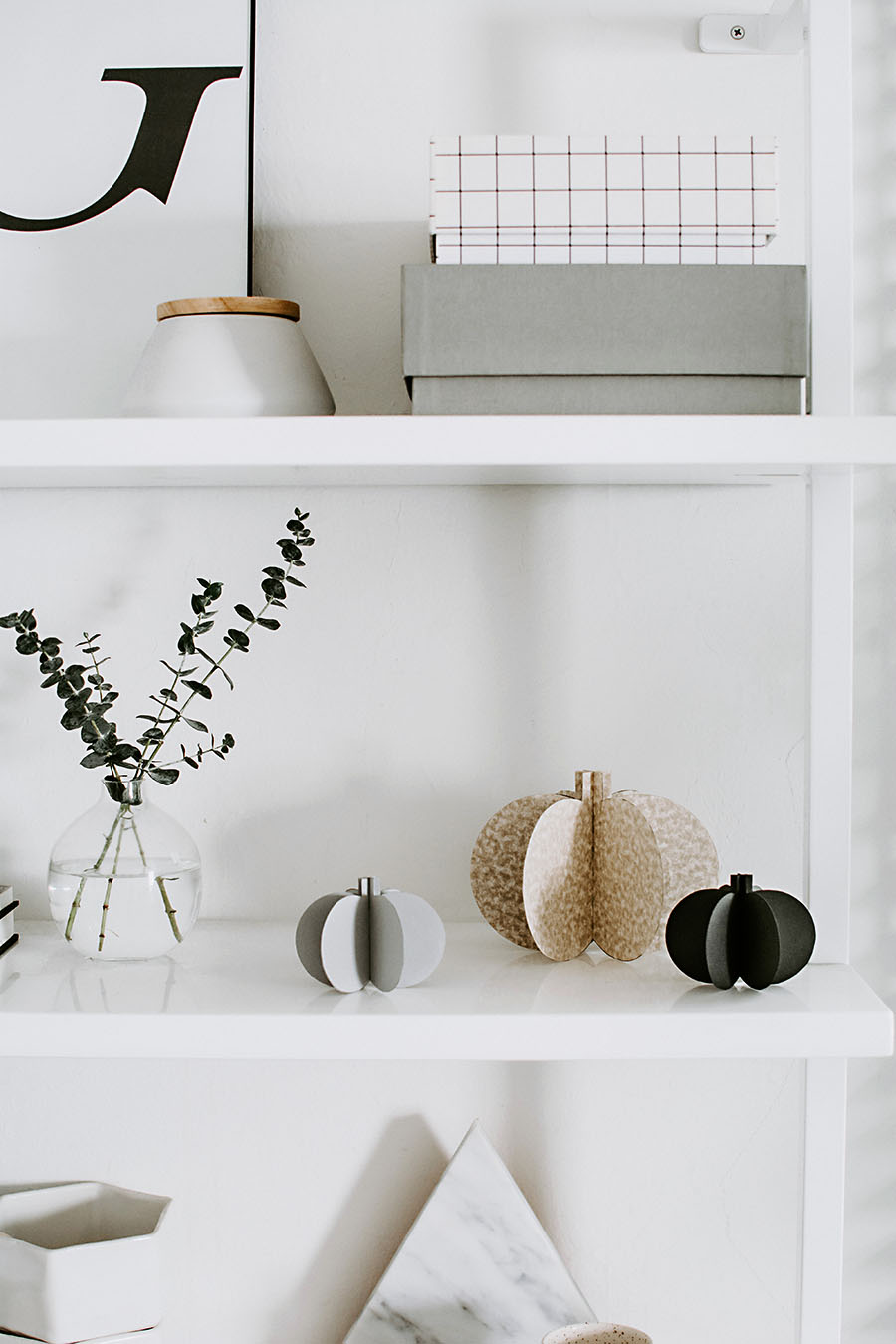 For the giveaway, leave a comment below letting me know what other craft projects you'd be doing with the TS9521C printer.  One winner will be randomly selected in one week and contacted via email, so make sure to enter your email address in the comment box form (your email address will only be used to contact you should you win the giveaway).  Entrants must be at least 18 years of age and live within the US.
Good luck!
*EDIT* Giveaway winner has been selected and notified.  Thank you everyone who entered!
This is a sponsored conversation written by me on behalf of Canon. The opinions and text are all mine.
Other Posts You Might Like